General hints
Keep your prayers short, simple and to the point.
Avoid flowery jargon, you'll hear others use it - don't copy them!
Remember it's conversation, so keep it natural. Like Jesus talking to the two disciples walking along the road to Emmaus (Luke_24:13).
Be honest. Say what you really think, not what you think you ought to say!
EG: 'Father I don't really feel like thanking you for anything right now, but I am going to try because I know it will please you. Please help me to think of things I can be grateful for.'
Group prayer and praying out loud - how do we feel about this?
Corporate prayer helps us to:
Understand each other's needs;
Move together in fellowship:
"Again, I tell you that if two of you on earth agree about anything you ask for, it will be done for you by my Father in heaven. For where two or three come together in my name, there am I with them." (Matthew_18:19-20);
Enjoy God's peace - don't be embarrassed about silences in the group;
Share praise and worship together;
Bring various parts of prayer together, like different people having different pieces of the same jigsaw puzzle;
Grow in unity; and
Grow personally from the experiences and encouragement of others (we usually don't learn what others are thinking or experiencing until they open their mouths). This can mean being vulnerable in sharing.
Personal Prayer life
Many Christians find it helpful to set aside a part of the day for un-interrupted time with God. Finding a pattern of a regular time in an appropriate place to pray and read the Bible helps in our growing relationship with God and learning about His kingdom. While self discipline is needed, normally our time with God should be a joy. We also want to avoid legalistic attitudes and expectations - not being condemned by 'oughts', ie: what we are told 'ought' to be done. A "quiet time" doesn't mean we switch off from God at other times of the day - rather it can lead us into a day where God comes first.
The following memory jogger (ACTOY) can be helpful about ways to pray: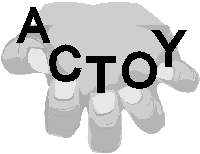 A Adoration
C Confession
T Thanksgiving
O Others
Y Yourself

In this section we are starting with "T" - thanksgiving.
Look up together 1_Thessalonians_5:18 and Ephesians_5:20.
Sometimes it is not easy to know God's will, but in these passages it is easy to know one aspect of His will on an on-going basis!
Jot down some of the things you want to thank God for:-
Something that happened today;
Someone precious to you;
Something about yourself;
Something God has done for you in the past;
Something God has done for all people;
A characteristic of God you particularly appreciate.
The opposite of thanksgiving is grumbling. So giving thanks helps us to keep a happy positive perspective on our lives and circumstances. It gives God the credit as the source of all things in our lives (Psalm_116). Thank God for things as they happen, be specific.