The nature and work of the Holy Spirit
Jesus and the Holy Spirit were always one. At Jesus' public baptism by John, the Holy Spirit came upon Him to equip Him for His mission and to demonstrate to all that He is the Messiah - the one anointed by God as King and Lord of all.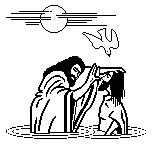 Now that He is ascended, Jesus sends the Holy Spirit to reveal to us the truth about Himself, the truth about our own lives and to equip us for ministry.

"But when he, the Spirit of truth, comes, he will guide you into all truth. He will not speak on his own; he will speak only what he hears, and he will tell you what is yet to come. He will bring glory to me by taking from what is mine and making it known to you." (John_16:13-14).

"When the counsellor comes, whom I will send to you from the Father, the Spirit of truth who goes out from the Father, he will testify about me." (John_15:26).
The Greek word used for the Holy Spirit is `Parakletos' and is translated "counsellor". Literally this means `someone called to one's side', and sometimes this is translated `advocate', `comforter', `intercessor', or `consoler'.
The Holy Spirit as communicator
The Holy Spirit is our means of communication with God. He can speak to us in a way we can recognise. For example:
"My sheep listen to my voice; I know them, and they follow me." (John_10:27).

"While they were worshipping the Lord and fasting, the Holy Spirit said, set apart for me Barnabus and Saul for the work to which I have called them..." (Acts_13:2).
We need to develop new listening skills, to put aside the noise of the world, and hear the Holy Spirit. If He is received with grace and humility, with a teachable spirit (openness on our part), then we can receive God's blessing - His support, protection, strength, guidance and companionship. Our daily prayer is one way to listen to the Holy Spirit.
On the other hand, if the Holy Spirit encounters hardness of heart, insensitivity, indifference, resistance or rebelliousness, we are in difficulty. The Bible warns us about this explicitly:
And the ultimate sin is blasphemy against the Holy Spirit. This is not just a swear word or a stray loose word uttered in ignorance - but a deliberate, wilful and knowledgeable insult against the Holy Spirit, attributing the works of the Holy Spirit as evil. It is a settled rejection of Him (Matthew_12:22-32_and Luke_12:10).
Testing the "leading" of the Spirit
It is very important to test what we perceive to be the leading of the Holy Spirit, to see if it is really of God. All of us can be misled through circumstances such as:
Reading into a scripture something we want to be there.
Bad advice or improper guidance from another. (Don't assume that someone who seems to have power must 'have it right'. Power of itself is no indicator of Godliness).
Mis-hearing, or partial hearing from God.
The Bible says to "test the spirits" (1_John_4:1). Here are some tests you can use:
Take your leading back to God in prayer - is this from you Lord?
Is the 'word to you' in unity with God's 'written word', the Bible?
Does it glorify Jesus?
What are its characteristics - does it bring liberty, love, peace (Colossians_3:15) and goodwill - or is it bringing pressure, worry and condemnation?
Test your 'leading' in fellowship with one or more mature Christian(s) you trust;
Is it being affirmed by practical circumstances in your life?
Is it coming to your attention through a variety of different channels and timings - all with the same basic idea? God normally confirms His will to you.
If you are not seeing it the same way as someone else, ask yourself - what is the 'spirit' they are coming from? Are they expressing a position of faith and the 'fruit of the Spirit', or are the expressing fears, doubts, negativity and dark clouds?
When God speaks to us, not just one of the above tests will ring true, they probably all will. Test your leading by running it through this grid. If it's from God, it should come through such tests with a clear inner conviction and peace. Once we have a 'word' / 'vision' / 'leading' from God, we must be faithful to see it through.
The Fullness of the Holy Spirit
When we become Christians we are spiritually reborn, through the work of the Holy Spirit. Our Baptism with water is the sign and seal of our rebirth and the Spirit becoming resident in our lives. (Romans_8:9, Ephesians_1:13-14)
One of the roles of the Holy Spirit in our Christian life is to empower us for mission and ministry. Every Christian needs the fullness of the Spirit in their life if they are to be joyful and effective in their life and witness. We should seek and pray that the Holy Spirit be in every part of our being. The New Testament exhorts us to "be filled with the Spirit" (Ephesians_5:18). In the original Greek this is in the present continuous tense. Hence the full meaning is "Go on being filled with the Spirit". As Christians we are sometimes like a leaky bucket which has holes to be plugged, so that we need to be constantly filled with the living water that comes from Christ. Jesus encourages us to seek the Holy Spirit from God:
"If you then, though you are evil, know how to give good gifts to your children, how much more will your Father in heaven give the Holy Spirit to those who ask him!" (Luke_11:13).
In the early Church we have recorded a number of occasions when the disciples were filled with the Spirit, such as Acts_4:31:
"After they prayed, the place where they were meeting was shaken. And they were all filled with the Holy Spirit and spoke the word of God boldly".
Sometimes in Acts water baptism preceded Spirit baptism, and on other occasions it was the other way around. From this we see that we can't put God in a box, or reduce His activities to neat equations in life! We will be studying this further in a later Unit.
The Holy Spirit and the Body of Christ
The following guide may help us search out some of the ways the Holy Spirit operates in the Church: